Workshop on the FY 2013 City Council Discretionary Funding Requests

Each year, City Councilmembers allocate discretionary funds to community groups to support social services, youth and senior programs, and other initiatives as prioritized by each Councilmember.  Discretionary funding requests are not overly complicated, and is a great way to receive much needed support during these financially tough times. 
The Federation hosted its first workshop of the year on January 20th to nearly 40 participants coming from community agencies across the New York metro area.   The training gave useful tips on when and how to prepare your organization's request, how to effectively introduce your organization to city leaders, and how to craft a compelling request.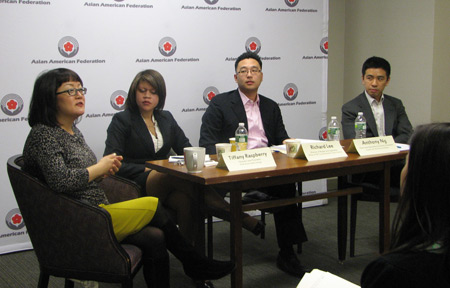 From left to right: Jo-Ann Yoo of the Federation; Tiffany Raspberry of YorkGroup Associates, LLC; Richard Lee of the NYC Councilmember Leroy Comrie's Office; and Anthony Ng of the Center for Working Families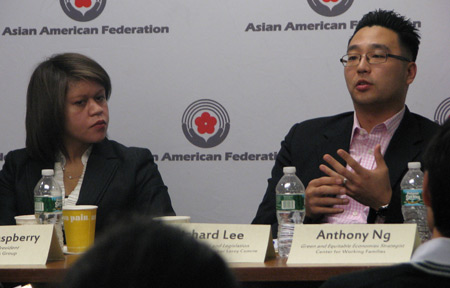 Panelist, Richard Lee (right) spoke on the importance of meeting City Councilmembers
With Jo-Ann Yoo, the Federation's Managing Director of Community Services moderating the session, the three panelists included:

Richard Lee, Director of the Budget and Legislation for NYC Councilmember Leroy Comrie
Anthony Ng, Green and Equitable Economies Strategist at the Center for Working Families
Tiffany Raspberry, Founder and President of the YorkGroup Associates, LLC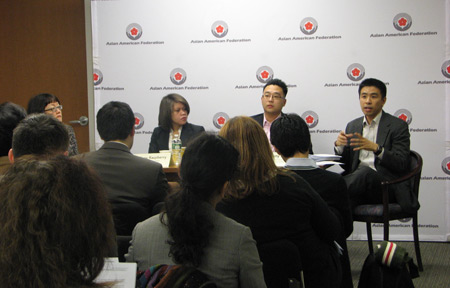 Panelist, Anthony Ng (right) discussed various city funding streams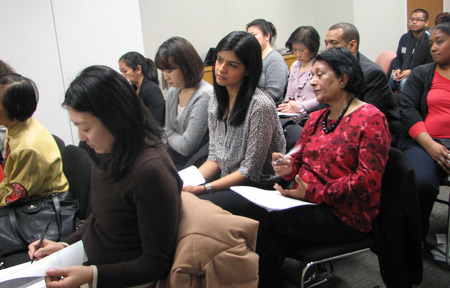 Forty participants attended the workshop from various community agencies like the South Asian Council for Social Services and Restore NYC.
The Federation will be organizing other trainings related to budget applications, so please stay tuned!  If you would like to be added to our email list for workshops and trainings or have any questions, please contact Jo-Ann Yoo at
jyoo@aafederation.org
or (212) 344-5878 x217.

[top]