Asian American Federation's Charity Bowl-A-Thon
Tuesday, November 15th 2011
6:30 pm - 9:30 pm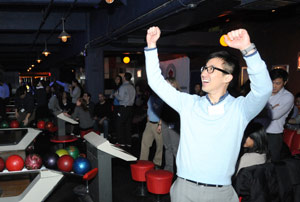 2010 Charity Bowl-A-Thon at Bowlmor Lanes. © Cheuk Lee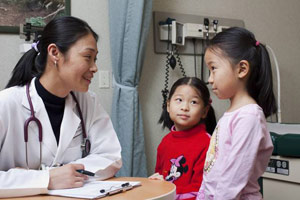 Nearly 27% of Asian Americans in NYC lack health insurance. © Charles B. Wang Community Health Center
Come Join Us and Bowl to Help Asian American Children!
Network with Other Corporate Professionals!
Sponsor a Team or Individual Bowler
What?
The Federation's Annual Charity Bowl-A-Thon provides professional networking, team building and socializing opportunities for corporate employees through a friendly competition that also achieves rewarding charitable goals. Last year, over 70 guests competed and raised a total of over $17,000 to support community agencies with programs battling poverty and hunger. This year, we will bowl to help disadvantaged Asian American children to access resources like safe afterschool programs or medical care they need to build healthy minds and bodies.
How?
Through these simple steps, participants will enjoy a fun-filled event while benefitting children by simply doing the following:
Form one or more corporate team(s) with 5-7 bowlers per team.
There are two team registration options: 

Registration for each team (7 bowlers max) is $600. This fee covers all expenses, including lanes, shoes, drinks, food and prizes, and is non-tax deductible and non-refundable. 
OR $400 for team registration, with participants also helping to fundraise.  This can be a personal 'give' or a 'get' by having friends, colleagues and family support you as a bowler.
Please RSVP by October 21st to anne.wang@aafederation.org, with the number of lanes you would like and which registration option.
Sign up colleagues, friends and family members to sponsor you, and connect with them through facebook.  The more sponsors you sign, the more you can raise for those in need!
Bowl against other corporate employee teams to claim 'domination status'.
Enjoy great food, beverages, beer and a post-game networking reception.
Teams with the 'highest score' and 'highest funds raised' win trophies!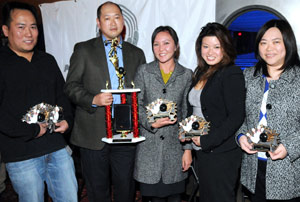 In 2010, Team Goldman Sachs won the Most Funds Raised Award. © Cheuk Lee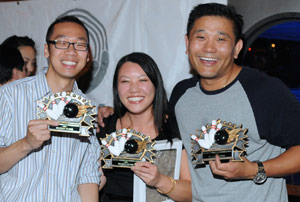 The Highest Bowling Score Award went to Team Time Warner. © Cheuk Lee
Bowl to Help Asian Children Living in Poverty
Poverty in the Asian American community is largely unknown. 1 in 5 Asians in NYC struggle in poverty, 25% of whom are children. They come from neighborhoods where violence and gangs are common. Due to the economy, families and parents have lost their jobs or are now being paid even less. Their children are at risk of not getting medical attention if needed because their parents cannot afford treatment, or because parents work long hours, their children are left unsupervised after school which can potentially lead to neglect, bullying or getting mixed up with street gangs.
You can help these families and children find resources to doctors and medicine, and to safe afterschool or weekend programs, where they can find tutoring for homework, be mentored by a big brother or sister, and engage in arts, sports and cultural programs.
Please help us to help them. This event raises money for human service agencies that meet the needs of disadvantaged families and children. Any donation will touch a life. All donations are 100% tax deductible.
Corporate and Matching Donations Are Also Welcome!
Support your employee team and make them proud to represent the company! Ways to support:
Outright donation (100% tax deductible).
Sponsor a segment of the event (e.g. Title sponsorship, reception, trophy ceremony).  Corporate sponsorship is tax deductible to the extent allowed by law.
Match your employee team's fundraising result.
For any questions on the event, please contact Anne Wang at anne.wang@aafederation.org or (212) 344-5878 ext. 27.
2010 BOWL-A-THON PHOTOS by Cheuk Lee.

[top]