The Asian American Federation Celebrated Its 2011 Spirit of Asian America Gala on May 5th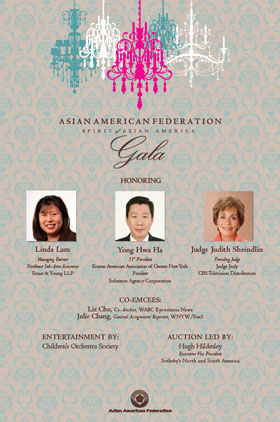 The Asian American Federation would like to thank everyone who supported us and attended our Spirit of Asian America Gala 2011 on May 5th. Over 400 guests celebrated the Federation's 21st Anniversary with 3 outstanding honorees who have made a direct impact on our community through their professional leadership, philanthropic endeavors and creative ingenuity:
Linda Lam
Managing Partner, Northeast Sub-Area Assurance, Ernst & Young LLP

Yong Hwa Ha
31st President, Korean American Association of Greater New York
President, Solomon Agency Corporation

Judge Judith Sheindlin
Presiding Judge, Judge Judy, CBS Television Distribution


This event gives us the opportunity to celebrate with special corporate and individual partners who share an interest in improving the lives of Asian Americans and our communities. We look forward to working with our partners and seeing you again next year!

[top]