Robert Wood Johnson Foundation Approves Challenge Grant
Last month, the Robert Wood Johnson Foundation approved a $200,000 matching grant for Project Speak Out, a joint program of the New York Asian Women's Center in partnership with Garden of Hope, Korean American Family Service Center, and Sakhi for South Asian Women. This national foundation grant will be matched by five local funders that have committed a total of $150,000. The local funders include the Asian American Federation, the Grace & Mercy Foundation, Korean American Community Foundation, Ong Family Foundation, and Tiger Baron Foundation. Project Speak Out is the first large scale pan-Asian community education and domestic violence prevention campaign in New York City. With the goal of changing individual and community attitudes and behaviors toward intimate partner violence/domestic violence, the four partner agencies will pool their knowledge and experience working with their constituencies to debunk the culture of silence and to unveil the secrecy of domestic violence. Speak Out will challenge cultural prohibitions by:
increasing awareness of the problem of domestic violence and recalibrating social norms making violence more unacceptable,
confronting the social conditions and community structures that contribute to violence, and
building networks of community leaders that can continue the transformative work of eliminating violence against women.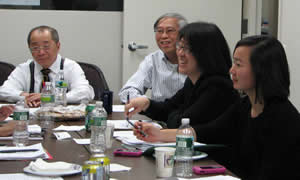 Larry Lee, Cao K.O, Brennan Gang, and Grace Yoon
This two-year project is the result of a collaborative effort to respond to the Robert Wood Johnson Foundation's Request for Proposals addressing domestic violence about a year ago. The Foundation required that any proposed project be nominated by a local funder and that the project would also be supported by local matching funds. The Federation convened a meeting with the four member agencies to discuss the funding opportunity and offered to act as a nominating funder. Over a period of several months, with the Federation facilitating the process, the four partner agencies jointly developed Project Speak Out, leveraging each other's organizational strengths to reach greater program impact than what each group would be able to accomplish individually. To ease the agencies' fundraising burden, the Federation reached out to the four family/community foundations mentioned above, and they responded quickly with their respective funding commitments toward the project. The Federation is proud of the successful collaboration of these four domestic violence agencies and of the local funding partners. We are appreciative of the Robert Wood Johnson Foundation's support of this important initiative. Together, we will make a significant difference in changing attitudes and behaviors toward domestic violence in New York's Asian American community.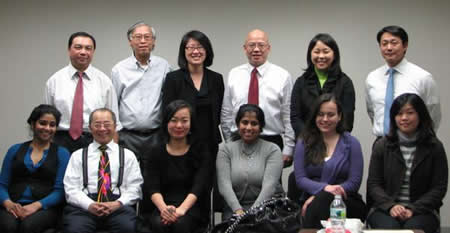 Left to Right: Hong Shing Lee, Cao K.O, Brennan Gang (Korean American Community Foundation), Nelson Louis (Ong Family Foundation), Kyung Yoon (Korean American Community Foundation), Mark Shaw (Grace & Mercy Foundation), Sethu Nair (Sakhi for South Asian Women), Larry Lee (New York Asian Women's Center), Grace Yoon (Korean American Family Service Center), Tiloma Jayasinghe (Sakhi for South Asian Women), Alyssa Elser (New York Asian Women's Center), and Emily Yuan (Garden of Hope)

[top]