Asian American Federation Board News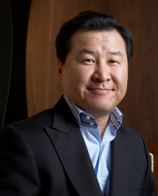 We are pleased to announce the election of the Federation's newest member, David Chung. Mr. Chung is the Chief Executive Officer of Englewood Lab LLC, a private research and development contract manufacturing company specializing in skin care and represents well-known brands such as Elizabeth Arden, Estee Lauder Group/Beauty Bank, Revive, and Strivectin. He is also Chairman and Chief Executive Officer of the cosmetic company, 3LAB, Inc., which he founded in 2002. 3LAB products are sold in all Barney's New York stores, Nordstrom, Saks Fifth Ave dot com, and many upscale domestic and international perfumeries. The Federation welcomes Mr. Chung and looks forward to working with him.
The Federation bids farewell to Peter Lederer and Usha Wright as they have stepped down from the Board. Both the staff and Board are immensely grateful for their wisdom, leadership and dedication to the Federation.


[top]