20th Anniversary Celebration at the Spirit of Asian America Gala!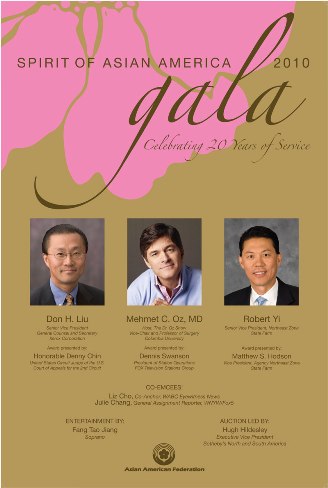 Participating Sponsors and In Kind Donors
2010 Photo Gallery

The Asian American Federation would like to thank everyone who supported us and attended our Spirit of Asian America Gala 2010 on May 6th. Over 500 guests celebrated the Federation's 20th Anniversary with 3 outstanding honorees who have made a direct impact on our community through their professional leadership, philanthropic endeavors and creative ingenuity:
Don H. Liu, Senior Vice President, General Counsel and Secretary, Xerox Corporation;
Mehmet C. Oz, MD, Host of The Dr. Oz Show and Vice-Chair and Professor of Surgery,
Columbia University; and
Robert Yi, Senior Vice President Northeast Zone, State Farm.
This event gives us the opportunity to celebrate with special corporate and individual partners who share an interest in improving the lives of Asian Americans and our communities. We look forward to working with our partners and seeing you again next year!

[top]