Meeting the Needs of English Language Learners
Thanks to the support of our funders, we've been able to impact English Language Learners (ELLs) in Chinatown's elementary schools. For the past year, we've provided professional development to teachers of ELLs in the areas of oral language development and reading and writing skills, all through differentiation of instruction to meet the needs of all ELLs. Participants observed veteran teachers develop ELLs' speaking skills through debate techniques, reading skills through deconstructing complex sentences, and writing skills through differentiated tasks, to name a few.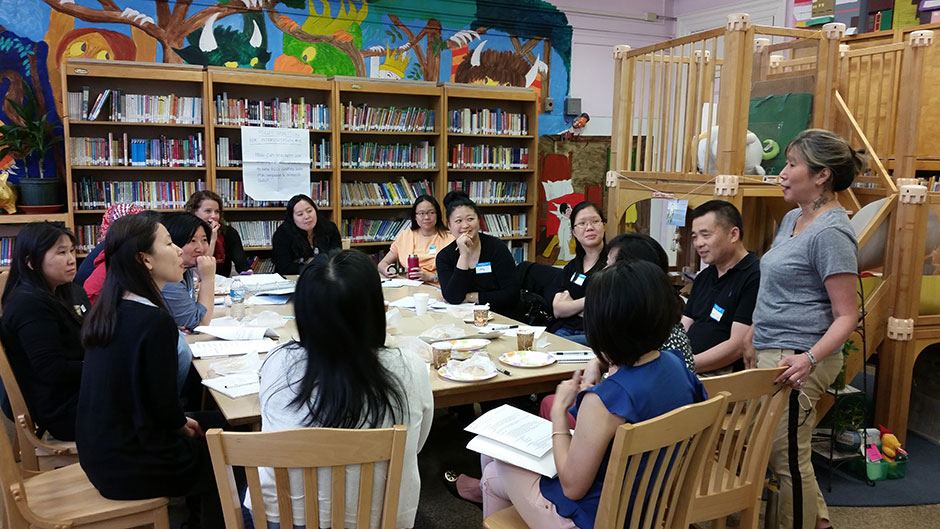 Teachers discuss PS 42's unique Reggio Emilia Approach, which allows students to direct their own learning, and learn through sensory experiences and peer relationships.
Teachers and principals alike have been enthusiastic about the value of the program. One lead teacher said, "I've really enjoyed learning about and discussing the instruction of ELLs with this group of teachers, who are passionate about teaching ELLs and good at their craft. I'm so grateful that this grant has allowed all of us who teach the same population with similar needs to discuss our challenges and find solutions." One principal also expressed, "This program has given me the chance to collaborate with other school leaders about our instruction for ELLs in each of our schools. This has made all of us reflect on our work with our students and see how we can improve on our practice."
As we begin year two of the program, consider supporting more important initiatives like this.

[top]