The Issue
40% of Asian American elders report depressive symptoms ranging from mild to severe. Suicide is the 8th leading cause of death for Asian Americans and Pacific Islanders. In New York City, Asian American is the only racial/ethnic group that has suicide listed as one of the top 10 leading causes of death. For Asian women 65 and older, the suicide rate is double that of their non-Hispanic white peers.

Asian Americans do not access mental health treatment as much as other racial/ethnic groups do due to a strong stigma against mental illness. Emotional "problems" are viewed as shameful and often go unreported, undiagnosed and untreated. Additionally, access to culturally and linguistically competent mental health care providers is limited. Therefore, even for those who do seek help, it becomes a challenge to find the appropriate care.
Our Response
Special Initiatives
The Federation organized the Elderly Suicide Prevention and Education Campaign, an initiative that promotes elderly Asian suicide prevention and awareness in the community, among professionals and for family members and caregivers. To learn more about the initiative, please visit, www.aaspe.net.
Connecting to Resources
In 2010, through its annual Community Fund, the Federation leveraged $170,000 for capacity building and program services provided by our network of human service agencies serving the elderly Asian American community and for the Elderly Suicide Prevention and Education Campaign. Some of the services supported by this year's Community Fund include:
Ethnic home delivered meals to homebound Chinese and Korean seniors.
Hiring of a Senior Citizen Program Coordinator to better serve the growing elderly Japanese population.
Mental health intervention for uninsured and high-risk community members.
LMSW test prep classes for bi-lingual and bi-cultural social workers serving the Asian American community.
Research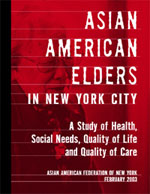 Asian American Elders in NYC:
A Study of Health, Social Needs, Quality of Life and Quality of Care (2003)
[141 pgs] [
read/download
] [
order now
]
This report is a significant component of the Federation's efforts to focus academic research and public policy formulation on the needs of the Asian American community. Produced in collaboration with the Brookdale Center on Aging of Hunter College, this groundbreaking study is a comprehensive exploration on the quality of life and care of New York City's growing Asian American elderly population.